New Limited Releases
We are very pleased with our offering of Limited Release wine kits, and we know you will be, too! These wine kits are usually availableby pre-order only, so be sure to order yours. Read on for the latest.
NEW!…ask us in store and order yours to avoid missing out!
Carménère: Chile
THE REGION: The vineyards of Chile are found along an 800 mile stretch of land protected by the coastal mountain ranges. This region has a Mediterranean climate comparitive to California or Bordeaux. Warm, sunny days and cool nights are ideal for producing great wines.
THE WINE: The Carménère grape was originally planted in Bordeaux, France but is now found almost exclusively in Chile. It produces a medium bodied wine with aromas of fruit and spice. It has a deep crimson colour and a fruity flavour with smokey, earthy notes.
THE FOOD: Carménère pairs beautifully with a meal of braised beef and grilled vegetables and is also delicious with dark chocolate.
Now in store in limited quantities!
Riesling/Traminer: Australia
THE REGION: Australia has one of the world's most respected wine industries, with more than 60 designated wine growing regions, a temperate, Mediterranean style climate, and ideal soil conditions.
THE WINE: This aromatic blend has fragrances of exotic spices and florals. It is crisp and refreshing with juicy, well-rounded flavours and notes of lychee, guava, and fresh citrus.
THE FOOD: Riesling / Traminer goes well with seafood, white meats, and light, spicy dishes. Paired with Asian cuisine, this popular blend is sure to please.
Now in store in limited quantities!
Rosso Tuscano – Italy
THE REGION: The vineyards of the Tuscany wine region are some of the finest in Italy with a warm dry climate and a long growing season. The steep, well drained slopes of the vineyards benefit from both the blazing Tuscan sun and maritime winds, producing aromatic wines of exceptional complexity.
THE WINE: Rosso Tuscano is a bold and flavourful new proprietary blend. It is dry and medium bodied, with rich flavours of sour cherry, leather, spice, and cocoa.
THE FOOD: Rosso Tuscano is the perfect companion for leg of lamb, strong cheeses, or slow roasted beef.
Now in store in limited quantities!
*NOW IN STORE*
MYSTIC RED
After significant research and development, our winemakers have succeded in creating a mystically perfect blend of Zinfandel, Syrah, Cabernet Sauvignon, Merlot. This rich and velvety smooth new red is equally suited to mingling at a party or pondering the mysteries of the universe.
THE REGION: California is home to some of the world's best grape growing regions featuring a wide range of diverse soils and growing conditions. Regions such as Sonoma and Napa benefit from a coastal climate with the perfect combination of warm days and cool nights.
THE WINE: A captivating blend of four distinct grapes that reveals intense fruity aromas on opening. This full bodied red offers rich flavours of black cherry, mocha, spice and vanilla and closes with a velvety, smooth finish.
THE FOOD: Mystic Red pairs well with barbecue ribs or sausage, and is the perfect companion to aged cheese.
Luscious New Blackberry Port Style
THE WINE: This is a full flavoured, port style dessert wine with luscious, fruity aromas. On the palate, the taste is rich and sweet, with complex flavours of ripe berries and an invigorating finish that is sure to please the senses. A truly special wine to be sipped and savoured, this wine is amazingly good after a few months in the bottle and will continue to improve for years. We recommend bottling in 375 ml. bottles – a little goes a long way.
THE FOOD: Blackberry Port Style wine is excellent on its own, but irresistible when paired with decadent chocolate desserts or aged cheeses. The perfect end to a great meal.
Cabernet Franc Icewine Style
THE WINE: Wonderful flavours of raspberry, strawberry jam, blueberry, and honey give this wine an exceptionally luscious mouth-feel. A perfect balance of acidity and sweetness creates a true icewine style experience. Serve chilled in small white wine glasses.
THE FOOD: Cabernet Franc Icewine Style is excellent during a meal when paired with a savoury paté or olive tapenade. After a meal this crowd-pleaser is the perfect match for sweet fruit tarts or rich dark chocolate.
Coastal Sunset 2013 ~ California
Our limited release Holiday Wines for 2013, Coastal Sunset, are now available for those who ordered them. Now is the time to get them started to age and enjoy these wines for the Holiday season in December.
Zinfandel / Merlot: A proprietary blend combining the fullbodied, robust flavours of Zinfandel with the softer, medium-bodied fruity merlot. This full flavoured red is brimming with berry fruits such as blackberry and raspberry along with plum and subtle pepper notes. The Merlot softens the natural fruitiness of Zinfandel, providing depth and a good tannic structure.
Pinot Grigio / Muscat: This fresh, off dry white blend displays a pale-straw hue with ripe peach, pear and floral aromatics. Refreshing flavours of tart green apple, lemon zest and wild honey are there to enjoy. The acidity creates a nice structure without overpowering the fruit. It finishes clean with a slight hint of sweetness.
Wine Cellar 2013
Pre-order deadline over – these kits are now in for those who ordered them
Petit Verdot (France): A distinctive red wine, Petit Verdot is a deep, bright, purple color with aromas of plum, blackberry and cedar. This full-bodied wine displays flavours of dense, dark fruit such as blackberry, black cherry and dark plum with subtle pepper notes. The wine is well rounded and complex with firm tannins. Sommelier 10L – 13% | Sommelier Reserve 18L – 13.5%
Müller-Thurgau (Germany): Müller-Thurgau was developed in 1882 by Dr. Hermann Müller and is a cross between Riesling and Madeleine Royale. It's a medium-bodied fruity white wine that is straw yellow in colour. The bouquet is abundant with aromas of sweet peaches and green apples. Lots of ripe fruit on the palate with a refreshing off-dry finish. This wine has a good balance between crispness and softness, best when consumed young. Sommelier 10L – 11% | Sommelier Reserve 18L – 11.5%
Brunello (Italy): Brunello is a classic Italian wine that originated in the 1800's. The name Brunello means "little dark one". This powerful wine is made from a Sangiovese Grosso grape clone. This is a big wine in both body and flavour. It is dry and full-bodied with aromas and flavours of jammy fruit, vanilla, spice and wood. Perfectly balanced acids and tannins create a long, lingering finish.
Sommelier 10L – 13% | Sommelier Reserve 18L – 13.5%
Wicked is Back in Stock!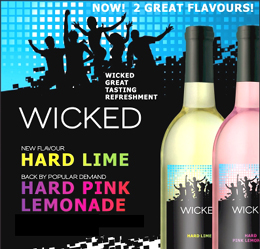 Wicked Hard Pink Lemonade and Wicked Hard Lime are back by popular demand…get yours while they are still available!
The Latest News, New Products
Pomegranate Açai White Merlot
Just in time to be made and enjoyed for summer 2013! Two of the most talked about super-fruits blended with an exciting twist on the classic merlot…a white merlot! Now In Store!
A New Addition From Italy: Verdicchio
The name verdicchio (vair-dik-ee-oh) derives from verde (or "green") and refers to the slight green/yellow hue of the grapes when they are ripe. The verdicchio grape presents a clean fresh aroma of green apple, white currant, citrus, floral and mineral. This mediumbodied, refreshing white wine sings on the palate with flavours of lemon, green apple and almond, making for a perfect aperitif. Best enjoyed while young and fresh.
Serve with baked or poached firm fish with dill, seafood salads, green salads with light vinaigrettes, spring pea risottos, lemon chicken, steamed mussels, and shellfish.
Available in both Traditional Vintage 10l – 5 week and Ultimate Estate Reserve 17l – 8 week brands
NEW! We've added two exciting new wines to our Traditional Vintage collection.
Available previously as limited releases, the demand to offer Spanish Tempranillo and Italian Primitivo on a permanent basis has been overwhelming.
These new red wines include our WK Crushed Grape Pack to create a true "on the skins" fermentation experience, the same process as commercial wineries use when producing their premium red wines.
You'll experience bolder bouquet and flavour characteristics, deeper colour, fuller body and firmer tannins than ever before.
ALSO NEW: 15 bottle Traditional Vintage wine kits!